From the moment she belts out her first note, Christina Aguilera owns Burlesque. Her big voice echoes as she shimmies through each song and dance number while coquettishly winking at the camera. I'd even go so far as to call her hypnotic. If Burlesque was just an Aguilera stage show, it would be completely satisfying. Unfortunately, movies require actual plot and dialogue and when it comes to both, the film leaves much to be desired.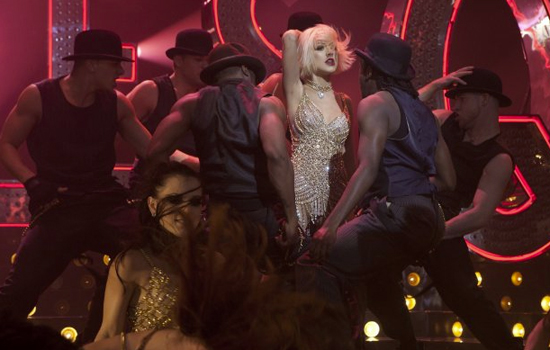 Burlesque starts the same way as most small-town girl stories: Aguilera plays Ali, a waitress in Iowa with dreams of moving to Los Angeles. She buys a one-way ticket, moves into a rickety motel (the kind that's so shady you apparently have to hide your money in the toilet), and scouts the newspaper for random jobs. That's when she spots a woman in fishnets outside of a local club called Burlesque. Ali is immediately entranced by the glamorous dancers, but to become one of them, she'll have to get the approval of the club's gatekeeper, Tess (Cher).
For more of my thoughts on the film read more.