Celebrity Makeup Artist Rose-Marie Swift Talks Natural Beauty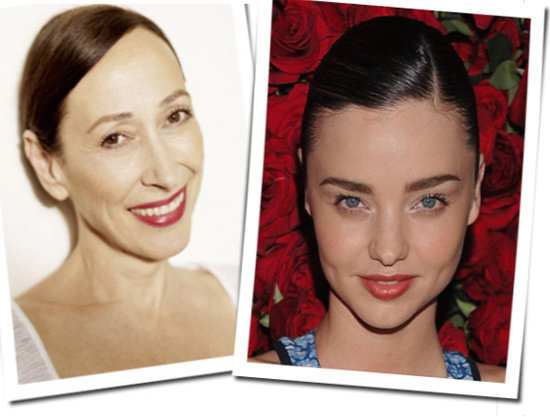 Rose-Marie Swift. If you're not familiar with the name, you will be with her work. For over 20 years, Swift has been a top editorial and celebrity makeup artist, working with Gisele Bündchen, Miranda Kerr, Vogue and Allure to name but a few. But it's her work to educate against the use of toxins and chemicals in beauty — culminating in her launching the cult natural makeup line, RMS Beauty — that we're here to talk about today. Here she charts her entrance into beauty, shares two new exciting upcoming product launches that we can't wait for, and reveals the big questions you should ask any brand if you're unsure of its natural status. Keep reading for more.
How did you get into the industry? A complete fluke! I never even thought of being a makeup artist really. My sister was an esthetician and she was asked to help some dancers with their skin. She asked me to do their makeup and I basically pretended to be a makeup artist and it took off from there. My first job shortly after that was the cover of a big fashion magazine from my home town of Vancouver, Canada. I never stopped doing makeup from then on.  
What's your earliest memory of makeup? My mother's white ostrich feather powder puff sitting in her box of powder
Tell us how RMS Beauty came to be. I started a website back in 2004 called www.beautytruth.com where I expose some of the toxins and chemicals in the beauty biz. I received so much press and was constantly asked questions from readers [about] what products they should use. I actually started researching all these tongue-twisting ingredients listed on the backs of all the beauty products including the ingredients in natural brands. I decided that nothing was up to my standard so I created my own line of organic colour cosmetics called RMS Beauty.
What were initial reactions like to the brand? They were actually pretty favourable. Some people were hesitant until they tried it and realised it worked and that this could be going somewhere. It started out also as an education so time was really spent in that arena. Now information seems to be readily available so my work is easier now.
Aside from featuring non-toxic and naturally-sourced ingredients, what else makes RMS Beauty "green"? RMS Beauty's lifestyle is pretty green from packaging to shipping to employees. We all eat healthy. You name it, we pretty well do it. I also research like crazy and am totally obsessed with this dark cloud called Monsanto and their genetically modified organisms (GMOs) over our food supply. This is bad news. I make sure there are no GMOs in my products. We have even gone to great lengths to not have GMOs in our vitamin E. Most vitamin E contains GMO.
What's the biggest hurdle you've faced with the brand? Packaging by far is the hardest as I am trying so hard to avoid plastic. These huge packaging companies really aren't trying to do anything to avoid plastic which is so sad.
What are your can't-live-without products in your kit? My RMS Beauty Living Luminizer ($49). That one product alone can easily perk up your face, including the eyes, by adding one little dab of luminiser over the lid. RMS Beauty 'Un' Cover-up ($45) to even out the skin tone where needed and minimise dark under-eye [circles] and my eyelash curler. Voilà — you are done.
You've made up so many models and celebrities — is everyone keen on organic skincare and makeup? If not, how do you win them around? Not everyone is keen on it. You still have people believing the cosmetic gods are the big designers that have branched out into beauty. Once they give it a try and get educated on the truth about what is really in those chemical brands, they come round pretty fast. People are really becoming aware and it is making my job much easier.
How can we be sure that what we're getting is the real deal when it comes to organic beauty brands? You can't. Green washing is out of control. I have to say unless you really know how to read an ingredient deck on the back of packaging, you will be lost. They get rid of the chemicals that are getting bad press and substitute it with something just as bad or manipulate natural raw materials therefore turning them basically into another man-made chemical and disguise it as "natural". My best advice is to go with people that really stand behind their brands and will answer all the questions you could possibly ask about their product. Most can't answer a thing about their products when it comes to really advanced questions. Ask them if their oils are refined, bleached or deodorised? Ask them what micron size their minerals are? Ask them if they are coated in silicone or parabens etc. Ask them if their vitamin E contains GMO soy? Believe me, they won't have a clue.
What top tips do you have for those wanting to live a greener life? First of all feed the body healthy food: organic vegetables and fruit, green juicing is a must, no sugar, no artificial sweeteners, no soda pops, avoid soy (yes soy) and wheat and drink lots of clean purified water. Recycle and care more about the environment.
Will you only use organic and environmentally-friendly products on you, your shoots and your clients? Myself yes. At photo shoots, no. I have to be professional on my jobs and that means being prepared for whatever is happening. Organic makeup is great for every day wear and sometimes for shoots for sure but it doesn't always cut the big photo assignments. You sometimes need super bright or metallic synthetic colours and heavy application because the lights can be very strong. You have to have products that can handle every possibility. You always have to be prepared with a cross section of makeup on professional shoots. I get asked by young makeup artists all the time about changing their kits green and I always say NO . . . you need all of it if you want to stay in the fashion business.
Who are your own eco heroes? Any environmental company that is out there bringing awareness and cleaning up the mess we have done to our environment is my hero. Greenpeace, NRDC, Organic Consumers Association to name a few
What's next for you and the brand? I am coming out with a powder that will blow people away.  It is a universal shade that absorbs oil and doesn't leave a white residue. It has one really amazing benefit but I cannot say till it is out. The Beauty Oil that I have been working on is ready soon and that I am really proud of. It is a secret till the launch date.
Do you wish the beauty industry would do more to help the environment? Yes. I wish all those huge corporations would do more. Everyone needs to wake up and realise we are living in one hell of a polluted world.
Complete these sentences:
Makeup is . . . both reality and non-reality.
Makeup should not . . . be toxic.
You should always . . . love yourself.
I wish I'd never . . . not have ever.
Life is . . . a journey.