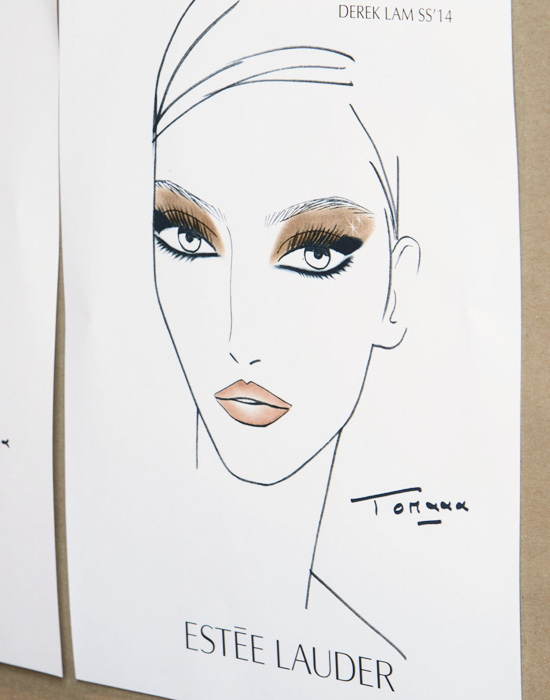 Marc Jacobs
did it,
Jason Wu
has done it, and now
Derek Lam
is entering the cosmetics field, too. Tom Pecheux, creative makeup director for Esteé Lauder, is a staple backstage at Derek Lam runway shows, so it's only natural that the two would eventually work together to create a new collection for the beauty brand. "I do love the idea women could use my makeup like my ready-to-wear collection — as part of the wardrobe that creates a personality and a style. I wanted that functionality in the makeup line," Lam
told WWD
. "I also wanted to translate what I'm seeing in fabrics and textures into the cosmetics."
This isn't the first time Derek has designed something other than clothes. He once did a one-off fragrance for his fashion show, and he's also collaborated with a powerhouse brand before with his Kohl's collection. This five-piece makeup set will include a navy blue eyeliner, a golden eye shadow, mascara, a rosy lipstick, and a nude gloss with metallic flecks. To make it even more covetable, the entire collection will be encased in a Derek Lam-designed clutch. The kit, which launches in January for US$85, is supposed to be any woman's after-five essentials, which is right in line with the look from his Spring 2014 runway show, where we got a sneak peek of the products. "Nobody has time to go back home to shower to clean and rebuild the makeup. Girls like to add a bit of makeup to start their second part of the day and then the evening." Well, thank you for bringing us one step closer to happy hour.