How to Create a Dual-Textured Ponytail
Pony Tales: How to Nail the New-Season Ponytail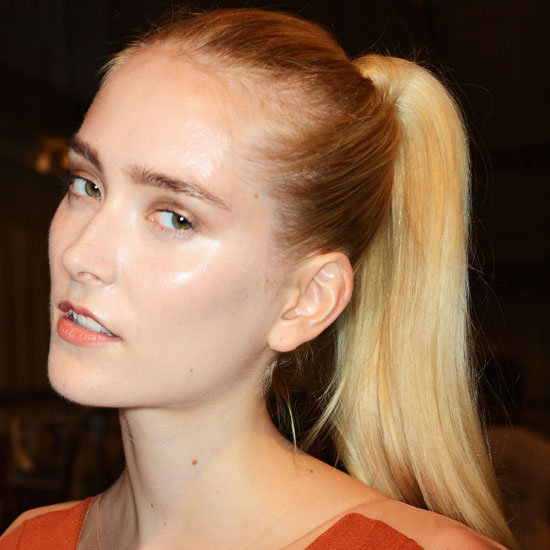 Ponytails were all over the Mercedes-Benz Fashion Week Australia Spring 2012/13 runways and now they're cropping up in Berlin, too, meaning the staple style is going to be big news for the season ahead. We particularly like the Istanbul Next 2012 look that made its German debut over the weekend and features dual textures (spot the sleek sides yet raw, natural-looking ponytail). Read on for our advice, including products needed to help you emulate the look at home.
Begin by prepping damp, clean hair with a smoothing product such as ghd Straight & Tame Cream (21.59) mixed with a little serum. We like KMS California Silk Sheen Polishing Serum ($25.56).
Start off with a five cent piece-sized amount (you can always add more) and apply the combination to the mid-ends to the lengths of your hair using the residue over your hair line. You don't want to put a large amount of product on as you don't want it to be weighed down.
Next blow-dry straight, using a straightener afterwards to create a silky texture.
Next add a little more serum to your hands and pull back your hair into a ponytail that sits just above the occipital bone (the sticky-out bone at the back of your head). Use a tail comb to smooth back any bumps, ensuring that it's nice and sleek.
Secure with a hair elastic and spritz with hairspray.
Now take a one-inch section from your ponytail and wrap it around the base of the ponytail to conceal the hair elastic. Pin into place with a bobby pin.
To get the raw, organic texture happening in the ponytail, use a styling powder such as Schwarzkopf Osis Dust It Mattifying Powder ($20.26). This adds a matt texture to the hair but is incredibly lightweight so it won't weigh the hair down.
If you want a little more texture happening you can also backbrush a few sections of the ponytail.
And remember, if your hair is short, you can still achieve this look with some clip-in hair extensions. We recommend Schwarzkopf Magic Hair Extensions ($44.95).
Stockists: Schwarzkopf (1800 022 219)