How to Get Vanessa Hudgens' Voluminous Ponytail
How-To: Vanessa Hudgens' Pretty and Pouffy Pony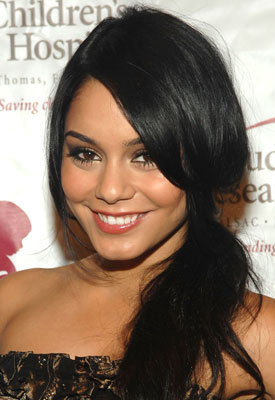 Stylists have this look down pat. But it can often be a different story trying to achieve volume and pouf at home without getting bird's nest results. Sigh. Lucky for you, we've got a few simple tips—see all it involves is lots of teasing, gentle combing and the use of a tail comb, like this Lady Jayne one.
To start, using the tail end of the comb, separate your fringe (or face-framing layers) from the back of your hair.
Next, use the comb's teeth to tease the back portion of your hair. Clip the top layers up and away and start teasing from the bottom, working upward as you release the hair above.
Once you're done, lightly smooth over the outer layers of your hair with the comb to tame and pull the entire back portion into a side-pony and secure with an elastic. Keep reading . . .
Stick the handle end into your ponytail (holding it parallel to the area just above the elastic) and softly tug out a small portion of hair. This will create added lift and volume.
Now, to complete Vanessa's look, tease only the roots of your bangs and lightly comb out for a cohesive finishing touch. Voilà! The whole thing is a cinch to do and should only take you about five minutes. Love it!