How to Master the Perfect Messy Top Knot
The 5 Minute Model Hairstyle You Need to Try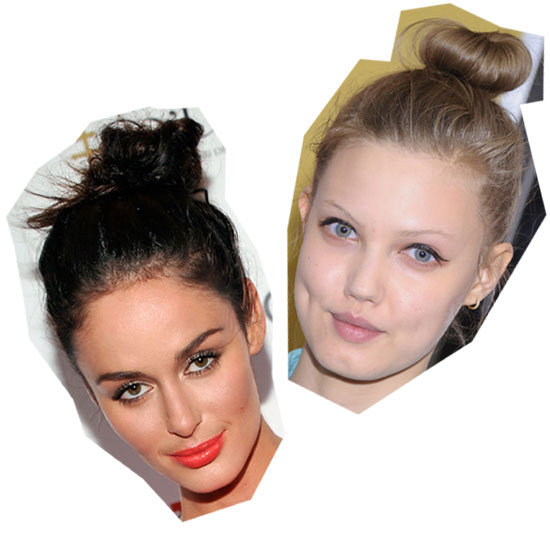 We're calling it — the messy top knot is one of the easiest hairstyles to achieve, and loved by models the world over. We spotted Australian model Nicole Trunfio rocking the effortlessly undone style at 2012 Miami Swim Fashion Week and two separate The Cinema Society event in New York, and fellow model and all-round amazing beauty Lindsey Wixson also wore a top knot to a NYC film premiere yesterday. The style is universally flattering, and we love it best with a low-key eye and a bright lip, but don't forget to work some texture into your hair before styling it up into the heavens. To learn how to master the messy top knot, keep reading.
Texturise the hair: Freshly washed hair won't work as well as second-day hair, but you can fake it with product. Hooray! Spray sea salt spray all over the hair — remember to flip hair upside down to do underneath — and then roughly dry with a hair dryer on a warm setting.
Tie it up: Pull your hair into a high ponytail and care not for neatness, the point is a messy look — so just whack it up and make sure it's secure.
Tease it, baby: Take a fine-toothed comb and section the ponytail. Gently back-comb each section to create volume. Then, gather it all together and spray with a tiny bit of hair spray. Just one of those quick one-more-before-you-leave-the-house sprays — you know those?
Twist and secure: Grab the ends of the newly voluminous ponytail, and lightly twist. This should be a very loose twist. Now pull it up into a traditional bun and secure with either a hair tie or bobby pins. Go on, have another little spray.
Mess it up: Just like you would pull apart a braid to get that undone look, gently tug at the bun to create some texture. Once you've got your desired amount of messiness, take the palm of your hand and gently rub it in a circular motion all over your head. This will give you those adorable little baby hairs. Love those.
And that's it! Pop on some tinted moisturiser, your favourite bright lipstick and a lick of mascara, and you're ready to go.