Review of La Prairie Advanced Marine Biology Revitalizing Collection
Bella Review: La Prairie's Advanced Marine Biology Revitalizing Collection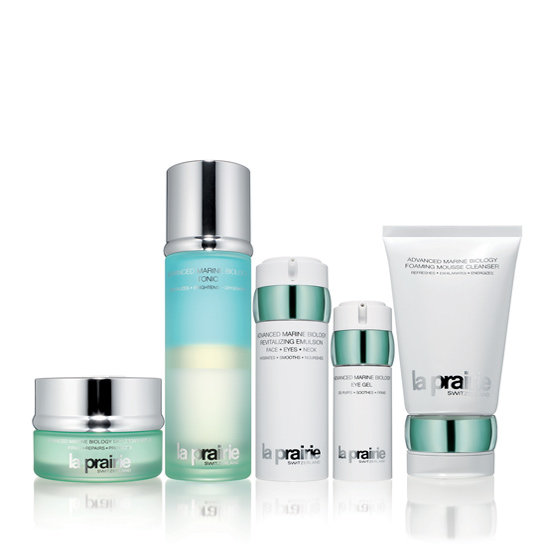 It's pretty safe to say that when it comes to skincare, La Prairie is the crème de la crème. I've heard so many glowing reviews of their products — especially their Skin Caviar made from real caviar pearls — that when I was invited to visit their offices for a skin mapping session, I was pretty excited. I soon learned what I had already suspected, my skin was dehydrated and dull, and their skin specialist recommended I try the Advanced Marine Biology Revitalizing products. What? No caviar for me? Sob.
But I needn't have been upset because in the following hour, the team took me through a luxe DIY facial using the products suited to my skin type and age (turns out the Caviar collection is suited to more mature skin), and it was amazing. I always thought that because I have acne-prone skin, I had to use acne-based products, but I found out that while it is important for me to keep a healthy balance of glycolic acid in my life (read: on my face), I can still get the benefits of the pure, deep sea nutrients found in the Advanced Marine Biology Revitalizing Collection. Keep reading.
I've been using the Eye Gel and Revitalizing Emulsion in conjunction with my usual acne-based skincare for two weeks now, and I'm really seeing a difference in the appearance of my skin. It's brighter and has a certain glow to it that it didn't have before, and I no longer have dry skin around my eyes. This particular Collection contains both green microalgae and red microalgae, which support firmness and protection respectively. Great for twenty-something skin.
Bella beauty stars: 4/5
Product in a nutshell: A skincare collection inspired by deep sea nutrients that gives your skin strength and vitality.
Who should use it: Anyone in their mid-twenties who is very particular about what they use on their skin, and is looking to fight the signs of aging early. This Collection is also suited to anyone with particularly dull skin, who wants a boost in vitality.
Why we love it: It's luxe but basic in the sense that it's easy to use and feels amazing in both the application process and after the fact. It is quite thin and fresh on the face, so I didn't feel greasy at all. My skin looks more alive and it didn't cause any breakouts. Take that, hormonal acne.
Stockists: La Prairie