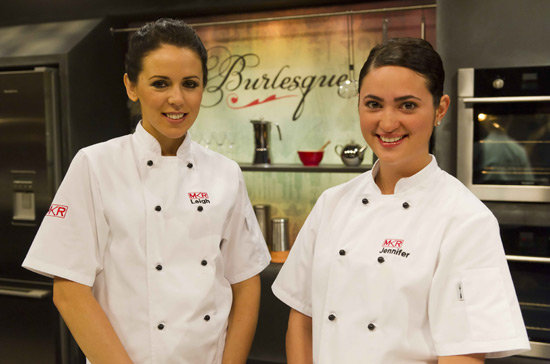 It's been a huge couple of days for Leigh Sexton and Jennifer Evans, the winners of My Kitchen Rules 2012. The friends from South Australia, known to viewers as the florist and 'princess,' are $250,000 richer after beating childhood friends Nic Mazzone and Rocco La Bella in an exciting grand finale showdown that saw more than 2 million Aussies tune in last night. We spoke to Leigh and Jennifer to get their thoughts on the audience's reaction and what surprised them about doing the show.
Congratulations on winning My Kitchen Rules! How did you celebrate?
Leigh: We actually just celebrated over lunch because we were so exhausted from a big day yesterday, and it's been a big day today. We finally sat down and had a gorgeous lunch and a glass of champagne. My family and Jenny's family were altogether so that was nice.
Did you watch the grand finale episode last night with friends and family?
Leigh: I did. I watched it with my mum, my brother, his girlfriend and my partner.
Jennifer: I watched just the last eight minutes of it, and then I watched it again around midnight.
More from Leigh and Jennifer when you keep reading.